My home station consists of:
FT-950/FT-857D
G5RV Dipole laying flat on the roof to avoid the antenna nazi's.
Attic bound 2m, 70cm, 33cm Yagis.
6m Squalo Loop in the attic.
Discone outside provides 2m-1.25m coverage.
Motorola GTX 900mhz with a 150w Amp
Kenwood TM-3550 220mhz w a 150w Amp
Icom IC-T7H Handheld
SCS USB PIII TNC
Signalink USB Soundcard Interface
Mobile:
FT-857D, and operate up to 33cm there as well using a mixed
bag of mobile rigs for VHF and Up.
HF antenna is a Larry's Antennas (KJ7U) Standard 6-160m Screwdriver
APRS active as KL7YK-7.
Marine Mobile:
FT-897D, Larry's Antennas Standard 6-160m Screwdriver stern mounted.
Boat is Aluminum Hulled so I enjoy full contact with the water for maximum
ground plane effect. I carry a laptop and Signalink aboard as well for digital work
and Sail Mail using Winmor. While the Screwdriver does tune 6 and 160m,
Summer proves those bands don't play this far North.
This is an earlier model from Larry, was on my truck for several years.
I added a second one to my setup and put the older of the two on the boat.
It's worked for contacts into EU, Asia and of course the lower 48 states from
the boat so far.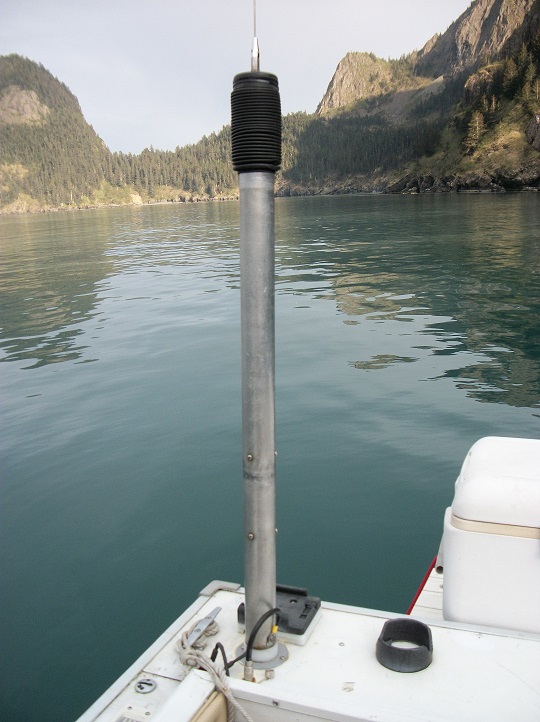 KJ7U Screwdriver Marine Mounted
I belong to the following groups and clubs:
| | | |
| --- | --- | --- |
| #005 | | |
| #7948 | #306 | #2284 |



#1222




#18851



#2353





YL Sideband Assn
#16399



#3337

Link to Dall Porpoise Video taken May 2014 (.avi)
Picture of Stellar Sea Lions recenty taken at Pinnacle Rock East of Resurrection Bay
Notice the Bull on top in the shade.
Page last updated on 05 Nov 2014
Copyright @ 2011-2014 by Ron Keech, All Rights Reserved